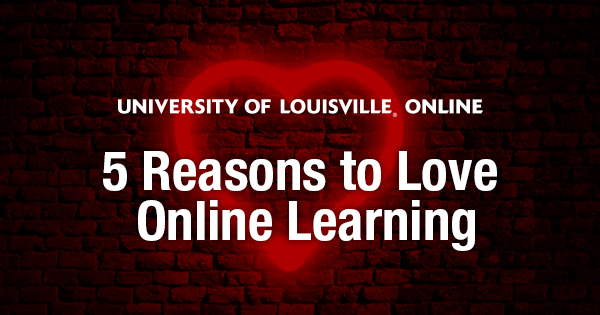 Valentine's Day is upon us! From chocolate to flowers to romantic dinners, it's a time to celebrate the ones we love.
But Valentine's Day can also be the perfect time to show ourselves some love.
If you've been considering a career change or you're searching for that path to a promotion, revisiting the classroom is a sure bet. Explore these five reasons to love online learning this Valentine's Day.
1) Flexibility Is As Sweet As Candy
Many online degree and certificate programs are asynchronous — you don't have to log on at any specific time for group discussions or lectures. That means you can take Valentine's Day off from school work to spend more time with your sweetheart.
Even though most classes will have specific due dates for assignments and exams, the decision to study at 3pm or 3am is entirely up to you, and you'll never find yourself losing sleep to stumble in to that 8am class or rushing out of work to get to your evening class on time. You'll have 24/7 access to all your course materials, lectures, discussion boards, and more to use when you find most convenient and when you're most in the mindset to learn.
2) Tuition Savings Are Dreamy
Beyond the advantages of flexibility, there are also a number of tuition advantages for online learners.
Take our competency-based Healthcare Leadership track as an example. This program offers a Prior Learning Assessment (PLA), which allows you to apply your life or professional experience toward tuition-free credits. This is essentially like "testing out" of material you're already familiar with, in order to accelerate your path to graduation.
Similarly, our online RN to Bachelor of Science in Nursing program will help you build a nursing portfolio in which you apply your professional experience toward up to 30 tuition-free credit hours. That's a potential savings of almost $15,000!
For the many online degree programs that don't offer a PLA or portfolio benefits, there is always the possibility of employer-sponsored tuition assistance. As of 2012, EdAssist found that 71% of U.S. employers offer some level of tuition assistance to their employees. Even if your company doesn't have an existing tuition assistance program, it's worth discussing with human resources, since there is growing emphasis on continuous education and training at most companies in order to retain employees.
Read more: 7 Questions to Ask HR About Tuition Assistance
If you don't have access to employer tuition assistance, there are lots of scholarship opportunities available, as well as scholarships reserved specifically for adult learners and non-traditional students returning to the classroom.
Last, but not least, transferring credits is a helpful way to save on tuition and more quickly reach graduation. For undergraduate programs, you may transfer credit to UofL from any regionally-accredited university. Graduate credits from accredited institution may be transferred as well — typically, up to six credit hours may count toward your degree requirements.
3) Self Paced Learning = Self Love
Between focusing on your career, raising a family, having a social life, and all the other responsibilities you carry, life can sometimes be hectic. And trying to stack an online degree on top of all that? Right…
The great thing about seeking your degree online is courses are often at least partially self-paced. If you need to reschedule your study time to make it to your kid's basketball game or school event, you can do just that without worrying about missing a lecture or in-class assignment. If you have a sudden emergency or any of your schedules collide, you can catch up later by watching a recorded lecture or re-arranging your schedule to make time for finishing up those couple chapters of reading.
Long story short: with online learning, you don't have to choose between your personal life and an education. Show some self-love by giving yourself the flexibility needed to maintain all parts of your life alongside earning a degree.
Read more: How To Get Ahead In Your Online Classes
4) Build Relationships Around the World
Without the common meeting time and face-to-face interaction you find in a traditional education setting, you might be thinking online classes are characterized by isolation and feeling like you're taking on this challenge alone.
You might be surprised to learn professors are highly-engaged with students through video conferencing, texting, and email, and that virtual study groups, discussion boards, and social media groups offer lots of opportunities to build lasting friendships with students and faculty all across the world. This is especially true in cohort-based programs, in which a group of students moves through the degree program as a single unit. In a cohort, you'll share classes with many of the same students from semester to semester, so it's easier to form study groups and friendships even though you're in an online environment.
Online degree programs are also a breeding ground for professional networking opportunities, because they tend to be more populated by career-oriented adults who may have years of experience in a specific industry or at a company you're interested in pursuing. There is a great variety of people you could meet in online courses — people from different states, countries, life experiences, careers, leadership levels, and goals — who can enrich your life personally and professionally.
5) Finding New Passions

Life isn't always sunshine and rainbows, right? You might feel stuck in your job or burned out with your current career. You might not feel going back to school is an option, since you're trying to balance a busy home life while working full time.
How can you get that passion back? By trying different things!
Online classes come with a lower investment than a traditional, on-campus format, since you won't need to completely re-work your life around being on campus throughout the day. That means you can try different classes and experience studying a variety of topics in pursuit of your passion without much interruption in your current day-to-day life.
You can jump around different general education courses to get a feel for psychology, business, the humanities, information technology, and plenty more until you find an area that piques your interest. While that does come with a price tag, of course, can you truly put a dollar amount on the value being happy in your career and living a life of passion?
About UofL Online Learning
The University of Louisville currently offers dozens of online degree and certificate programs in various areas of study for adult learners who are not able to come to a physical campus, but want to earn a college degree or certificate and advance their career.
The University of Louisville is a nationally-recognized, metropolitan research university, with a commitment to the liberal arts and sciences, as well as the intellectual, cultural, and economic development of our diverse community of learners.