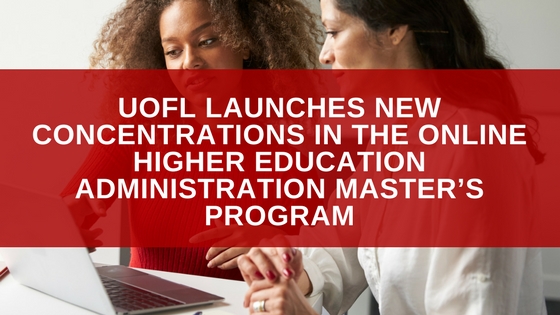 Finding your niche can be a crucial part of carving out a career in higher education. The online master's in higher education administration program at University of Louisville recently incorporated three new concentrations into the curriculum to help students take the strong foundation they develop as they work through the core curriculum and add distinction to their degree through focused specialization.
Concentrations are available in three areas: Administration, Teaching & Learning, and Policy & Equity.
Administration Concentration

Hone the art and science of running a world-class institution. The Administration concentration curriculum focuses on post-secondary organizational contexts and explores the practices of administration, management, and leadership.
From the day-to-day administrative challenges of running a large organization with multiple facilities to the interpersonal opportunities to build relationships and help others pursue their own career goals, this concentration helps students build the skills and knowledge needed to earn the trust of their peers and help lead organizations through the 21st century.
Teaching & Learning Concentration
Develop the skill set to collaborate with faculty and deliver academic excellence. By studying instructional design and strategy, as well as academic advising practices, students in this concentration learn to partner with faculty on their mission to offer a world-class education at their institution. Students are also prepared to understand and support teaching and learning in both instructional and administrative roles.
Policy & Equity Concentration

Navigate the ever-changing college landscape with a dedication to diversity and inclusiveness. Students in this concentration study policy as a theory, as well as the history of education policy, in order to chart a path forward that welcomes students from all backgrounds to pursue their goals.
Because policy does not always originate in the college or university, students in this specialization may pursue careers in professional organizations and advocacy and lobbying groups that seek to influence education policy at the local, state, and federal levels of government.
Online Master of Arts in Higher Education Administration
Learn more about UofL's Master of Arts in Higher Education Administration degree including descriptions of the courses involved in each concentration. Find your niche and apply today!
About UofL Online Learning
The University of Louisville currently offers online programs in various areas of study for adult learners who are not able to come to a physical campus, but want to earn a college degree or certificate and advance their career.
The University of Louisville is a nationally-recognized, metropolitan research university, with a commitment to the liberal arts and sciences, as well as the intellectual, cultural, and economic development of our diverse community of learners.