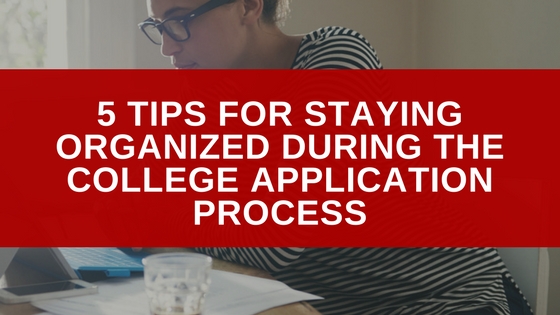 Whether it's keeping track of deadlines, requesting recommendation letters and transcripts, or writing thank you notes to admissions officers, there is always something to remember to do when completing your college applications. Staying organized is key to keeping the process moving forward and making sure you don't miss any deadlines.
Stay On Track: Applying to the University of Louisville
We sat down with University of Louisville's Senior Enrollment Counselor for Online Learning for a few tips about how to stay on track with the college application process.
1) Request Official Transcripts
Transcripts from any previous schools you've attended are one of the most important documents you'll need when applying for admission. Generally, there are a few steps for obtaining your transcripts.
Call or email the school's Office of the Registrar
Ask if they require written consent to release your transcript and, if so, ask if you can provide consent electronically
Send written consent to the school by email or through their preferred process
Note that many universities and colleges charge a small processing fee for providing transcripts.
2) Monitor ULink After Applying
ULink is UofL's student web portal through which you can review where you stand in the application process. After you've applied, log in to ULink and navigate to the Student Services tab, then select View my application status.
Here you'll be notified if you have missing documents preventing your application from being accepted, and you'll be able to see the overall status of your application.
3) Complete the FAFSA
When applying, it's important to complete the FAFSA (Free Application for Federal Student Aid) as quickly as possible to maximize financial aid opportunities. Specifically in Kentucky, funding for the Kentucky College Access Program Grant is awarded to undergraduate students on a first-come, first-served basis until funds are exhausted.
If you need any assistance completing the FAFSA, contact UofL's Student Financial Aid Office.
4) Submit Supplemental Documents
Depending on what program you're applying for, you may be required to submit supplemental documents as part of the application process. These include resumes, personal statements, and letters of recommendation.
If required, you can email these documents directly to UofL Admissions at the undergraduate and graduate levels.
5) Track Deadlines
It goes without saying, but deadlines, deadlines, deadlines. Many steps of the application process have deadlines, and they vary slightly depending on what program your applying to. Application deadlines can be viewed on the Admissions website.
Also, keep in mind the FAFSA has its own deadlines, which can be viewed on their website.
The best things you can do are note the deadlines in your calendar or set a reminder on your phone ahead of time, and always complete the application process as early as possible.
About UofL Online Learning
The University of Louisville currently offers online programs in various areas of study for adult learners who are not able to come to a physical campus, but want to earn a college degree or certificate and advance their career.
The University of Louisville is a nationally-recognized, metropolitan research university, with a commitment to the liberal arts and sciences, as well as the intellectual, cultural, and economic development of our diverse community of learners.