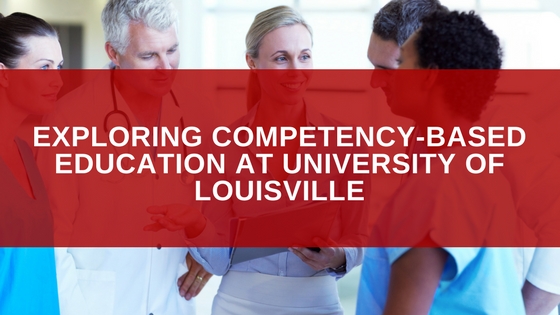 Returning to school and earning your degree can open new doors in your career. For students balancing family, work and school, though, the time commitment can seem daunting. Fortunately, UofL's Healthcare Leadership track of the Bachelor of Science in Organization Leadership and Learning degree program is offered 100% online, allowing students to fit the classroom into their own busy lives.
The healthcare track also incorporates a Competency-Based Education model (CBE) which can help speed your path to graduation in three important ways.
How Does Competency-Based Education Work?
The driving force behind the Competency-Based Education model is to award credit for what students have already learned inside and outside the classroom. The aim is to make finishing your bachelor's degree as easy as 1-2-3.
1) CBE rewards your previous college work
Whether you have started or even completed your associate's degree, or have earned credit at a four-year college, applicants to the Healthcare Leadership program are eligible to transfer over 39 credit hours towards the general education requirements of your degree.
2) CBE gives credit for on-the-job knowledge
The Healthcare Leadership track of the bachelor's in organizational development degree begins with a Prior Learning Assessment (PLA) that allows students to demonstrate their professional knowledge and earn up to 48 credit hours tuition-free.
3) CBE allows you to set the pace
After transferring credits and completing the PLA, students may take the core curriculum of the Healthcare Leadership (36 credit hours) track in a competency-based model. Each 3-credit course is divided into 1-credit components or competencies. Students may test out of competencies they have already mastered and devote more time to the skills they need to develop. This helps speed your path to graduation and saves you from spending time on what you already know.
Your Degree is Nearer Than You Think
Between transfer credits, on-the-job knowledge and competency-based coursework, the Healthcare Leadership bachelor's program is designed to bring your career and education goals within reach.
The Healthcare Leadership program at University of Louisville starts the first Tuesday of every month except December, so you can begin the next chapter of your career right away. Visit the online program's homepage to learn more and apply today!
About UofL Online Learning
The University of Louisville currently offers online programs in various areas of study for adult learners who are not able to come to a physical campus, but want to earn a college degree or certificate and advance their career.
The University of Louisville is a nationally-recognized, metropolitan research university, with a commitment to the liberal arts and sciences, as well as the intellectual, cultural, and economic development of our diverse community of learners.