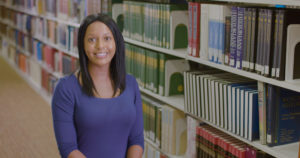 An inspirational story of a family tradition helped shape a young leader—Dr. Shawnise Miller, the new Program Director for the online Master of Science in Social Work from the Kent School of Social Work at the University of Louisville.
When asked what drew her to the field of social work, Dr. Miller immediately thinks back to her childhood.
"My grandmother was the director of a local social service agency and from an early age, I spent time at her office. I didn't go to daycare, I went to work with my grandmother. And even after starting school, I would spend my summer breaks at her office. Watching her help people and their families shaped me greatly."
It was there that she learned that help can come in a variety of forms. "It could be providing direct services like food or financial assistance for rent…or it could be advocating for social justice on behalf of individuals or even whole groups of people."
Entering the Family Business
When it came time to chart her own career course, Dr. Miller followed the passion for helping others in which she was raised and pursued her bachelor's in psychology at the University of Louisville. Once she got started, she just couldn't stop and pursued her master's and her Ph.D. in social work.
"Growing up, my father always told me that school was my job, so I took it seriously. I developed a true love and appreciation for learning…And now, one of the most rewarding parts of teaching for me is being able to fulfill my own passion for learning as I challenge myself to explore new teaching techniques and technologies and develop new curriculum to then challenge my students."
In addition to being the program director, Dr. Miller is also a professor, teaching Diversity, Oppression, and Social Justice Practice, a foundation course in the MSSW program. It's there that she gets to help students bridge the gap between the theoretical concepts presented in social work literature and concrete examples of people and communities in need.
"I love seeing the ligh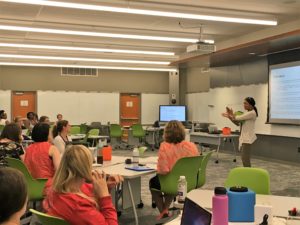 t bulb moments for my students…watching them make connections between course materials and real-life situations."
In her course, students will also learn how to collaborate with peers, an essential skill in social work where so much of the work is spent building relationships and connecting clients with the right people who can offer the best assistance.
"Collaborative work is something my students will engage in throughout their careers so I integrate it throughout my curriculum. I give a group assignment and then I work with each group to help them work effectively and efficiently as a team. I have to be intentional about teaching them to collaborate…I can't make the assumption they already know how."
Dr. Miller's experience in the online classroom and her dedication to staying on the cutting edge of online learning techniques promise good things in the online social work program at U of L's Kent School. We on the Online Learning team are excited about her appointment and look forward to working with her.
About UofL's Master's in Social Work
If you have considered pursuing your master's in social work, please take a moment and visit our site to learn more about UofL's social work program. We offer a 30- and a 60-hour program depending on your background and experience, and we would love the opportunity to help you pursue your education goals.