Picture this…
Your online classes just started. You're fumbling through the syllabus and clicking around Blackboard trying to wrap your head around how to be most successful.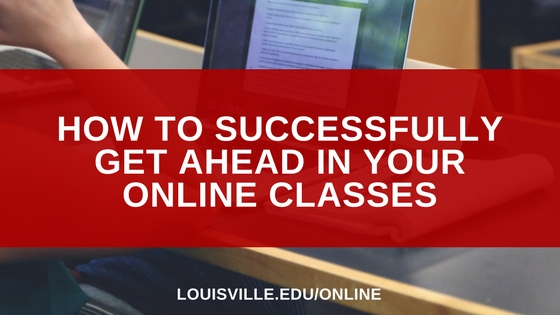 You know that if you can get ahead of the course material, you'll be able to better manage your time and get better grades. But how exactly do you get ahead?
Setting Expectations for Online Classes
Online classes offer lots of flexibility, but the lack of face-to-face class meetings means you are largely responsible for setting the schedule. It's key to work steadily so you don't face a mountain of work at the end.
To keep the pace, professors often assign more small tasks than they would in a normal face-to-face class. Frequent quizzes, reading assignments, and participation on discussion boards all help keep you paced throughout the semester.
Also, keep in mind that many online programs, such as our Master of Arts in Higher Education, offer courses in an accelerated format. This comes with the benefit of moving your degree forward more quickly, but also means you have more material to cover in a shorter time frame.
Key takeaway: Make an extra effort early in the semester to grasp the time investment your classes demand, and pay close attention to the format of the courses before enrolling if you're unsure about accelerated paths.
Get Connected on the First Day of Class
With little or no face-to-face time in online classes, connecting with your instructors and other students takes intentional effort early in the course. You'll inevitably have questions about assignments or the course material at some point in the semester, and it's great to have already formed relationships so you can reach out and quickly get an answer from your instructor or peers.
Often, instructors will have a discussion board topic at the beginning of the course for everyone to introduce themselves – take this as an opportunity to share some personal details other students might be able to relate to, and even toss out the idea of forming a digital study group with others.
Many instructors will have a private Facebook or LinkedIn group where students can connect, discuss material or ask questions. However, if they don't, you could set up this type of group yourself in a private Slack channel, Facebook group or LinkedIn group and invite other students to participate.
One of the major benefits of online learning is you have a chance to network with students all across the country or world who come from a wide range of personal and professional experiences. Take advantage of this as much as you can.
Key takeaway: Making friends and networking with other professionals is a great opportunity online learning offers. By making an effort to connect with others using tools like discussion boards and private groups, you can quickly get help when needed and walk away from your class with lots of new personal and professionals connections around the world.
Study Your Syllabus and Establish a Learning Schedule
Many online learning programs are self-paced. This flexibility is perfect for working adults seeking an advanced degree or certification, but it also requires discipline and a plan.
On day one, read the course syllabus thoroughly. Be sure you understand the expectations of the course, note how assignments will need to be submitted and know where to go for help. If you're confused about anything in the syllabus, get in touch with your professor at the start
As you read through the syllabus, use a free tool like Google Calendar or Asana to set email or push notification reminders on your phone for important dates, such as when projects are due or when exams are scheduled.
You could also use these tools to block off specific times for when you'll listen to lectures and complete assignments. Knowing exactly what times you're going to devote to your classes helps lower procrastinating and possibilities of falling behind.
Key takeaway: Read every detail of the syllabus and use tools available to schedule your learning. The more organized you are up front, the more manageable your classes will be throughout the semester. Don't wait until you're four weeks into a course to decide you need to be more organized.
Know What Student Resources Are Available
You might be thinking on-campus students have an advantage over online students, because they get access to resources like tutoring and research help.
But, many universities offer online students lots of helpful resources. At UofL, online students have access to a wide range of student resources, including the Virtual Writing Center, Virtual Library, REACH tutoring and tech support.
Familiarize yourself with all the resources available to you as soon as your class starts. Especially tech support, as you may run into errors while trying to take an exam or quiz and need to quickly find a solution. It's far better to know where to go for help before you need it than it is to scramble for an answer at the last second.
Key takeaway: As an online student, you'll have plenty of digital resources to help you be successful. Rather than waiting until you need help, familiarize yourself with all the tools and resources available to you at the beginning of the semester.
About UofL Online Learning
The University of Louisville currently offers online programs in various areas of study for adult learners who are not able to come to a physical campus, but want to earn a college degree or certificate and advance their career.
The University of Louisville is a nationally-recognized, metropolitan research university, with a commitment to the liberal arts and sciences, as well as the intellectual, cultural, and economic development of our diverse community of learners.