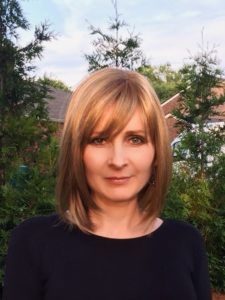 Irina McGrath navigates a variety of worlds.
Her classroom experience as a current JCPS teacher translates directly to her curriculum as a UofL instructor in the online Master of Education and ESL endorsement programs.
On top of all that, she also finds time to pursue her own education and personal life. She is the embodiment of the career and education opportunities that online learning offers.
Tell us briefly about yourself and your teaching career. Why UofL?
I work as a JCPS Middle School Resource Teacher, and I've been a UofL adjunct since 2007. I'm also a doctoral student in Curriculum and Instruction and I'm pursuing my Education Specialist (Ed.S.) degree in the Department of Educational Leadership, Evaluation and Organizational Development at the University of Louisville.
One of the reasons I chose UofL is because of its incredible faculty. Everyone I have worked with has been extremely knowledgeable, passionate about their work and supportive.
What do you like best about teaching online?
Online teaching encourages creativity and challenges your thinking as an instructor. Oral language, a preferred and commonly-used mode of communication in a face-to-face class, is not the main mode of communication in an online class; therefore, you need to find other ways to engage your students and facilitate their learning.
Teaching online also allows you to work in a place where you feel comfortable and can concentrate the most. Whether that is a coffee shop, your office or home. You can switch places if you wish, you just need Internet access.
How does the online learning format benefit your students?
The online format allows for continuous individualized feedback to students. It also permits me to tailor my instruction and interact with students in ways that meet their specific needs.
Additionally, the online format gives the students flexibility as far as time is concerned. Since the deadlines for each assignment are posted online, students can plan accordingly around their busy schedules. They are able to devote time to learning, as well as continue to work and spend time with their families.
What advice do you have for prospective online students who might be worried about going back to school while holding a job or taking care of family?
Online classes provide a smooth transition when going back to school. The course materials are posted electronically and you are in charge of creating your own schedule for completing the assignments on time. You get to decide when, where, and how much time you are going to spend each week on course work. Discipline and consistency are key.
Would you recommend UofL and your program to others? Why?
Yes, definitely! I strongly believe that UofL provides high-quality education and the courses we offer are well thought-out and designed to meet the diverse needs of our students. Many parties are involved in creating excellent online courses: from UofL faculty members who have successfully taught online courses to the Delphi Center, which has been instrumental in helping ensure online courses meet the high standards for quality.
About UofL Online Learning
Irina is a great example of what is possible if you put your mind to it. Taking the initiative and balancing work, home and school can be a challenge, but the reward is immense. That's why the University of Louisville currently offers online programs in many various areas of study for adult learners who are not able to come to a physical campus, but want to earn a college degree or certificate and advance their career.
As a nationally-recognized, metropolitan research university, with a commitment to the liberal arts and sciences, as well as the intellectual, cultural, and economic development of our diverse community of learners, our online programs bring a long tradition of excellence into your world.