U.S. Army Cadet Command has recently partnered with the University of Louisville to design and implement the first Cadre & Faculty Development Course at Fort Knox, Kentucky. Through this program, graduate students earn 12 master's level credit hours for the residence phase and an additional 12 credits for the clinicals at their respective campuses. Undergraduate students earn 15 credit hours for the residence portion and 12 credits for clinicals.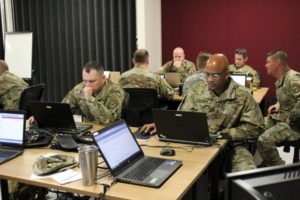 The U.S. Army website features the University of Louisville – Department of Educational Leadership, Evaluation and Organizational Development through an article about the Cadre Faculty Development Course (CFDC) at Fort Knox. The article discusses details about curriculum and outcomes of the program. The fall 2016 issue of the UofL Magazine also featured the program and other options the University offers for military service personnel.
Active duty military have a wide array of educational choices throught UofL Online and benefit from a Tuition Assistance (TA) rate of $250 per credit hours for most of the programs. Professional degrees (i.e., Master of Engineering in Engineering Management) also offer a special tuition rate.
UofL Online programs include bachelor's, master's, graduate certificates and teaching endorsements. View all online offerings and select a program that best fits your background, professional goals and interest.