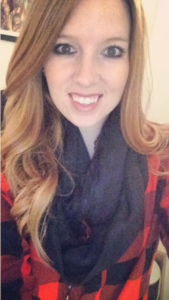 Kelsey Harrell works in the field of medical social work and is a graduate of the Master of Science in Social Work (MSSW) at UofL. Here she shares her perspectives on how a degree open to a broader educational horizon and many career paths can sometimes be best.
Tell us about yourself and your social work career. What lead you to enroll in the MSSW program? Did you specialize in a particular area?
"I chose the MSSW program because I felt it would provide me with a wide range of career opportunities post-graduation. I did not specialize in a particular area because, at the time, I was not sure which area of social work I would choose in the long run."
Why did you choose UofL?
"I chose UofL mainly for their completely online MSSW program. Many colleges and universities I looked at wanted students to visit the campus for classes, either once a month or once a semester. Since I work full time and wanted to go to school full time, I needed a school that did not require an 'on campus' presence. UofL's online program really worked for my busy schedule."
What did you like best about the program in terms of specific courses or projects?
"I felt there was an appropriate flow to the classes and I was constantly building on what I had learned in previous semesters. I really enjoyed the practicum classes as they were an opportunity to work 'hands on' in different social work settings."
What did you like best about the online format? Why was it most convenient for you?
"I really enjoyed the online format because it allowed me to work at my own pace within each weekly session. I could organize and prioritize assignments based on what I felt was most important. The online format allowed me to work on school-related assignments no matter where I was and fit my school schedule in with the rest of my responsibilities."
How has the program helped you in your current position?
"I currently work as a hospital social worker which requires multitasking on a daily basis. This program helped me become more organized and self-motivated, and strengthened the skills necessary for my current job, as well as others I may take on in the future."
What does your career path hold for you? Where would you like to go?
"As of now, I want to focus on medical/hospital social work. I am currently employed by a hospital which serves all ages, although I would like to move to a children's hospital at some point in my career. I would also consider social work administration in the future. My options are wide open and that's what I love most about my education."
What advice do you have for other online graduate social work students?
"I would advise social work students to create an online community with other students in the MSSW program. During my time at UofL I relied on my peers for support, ideas and answers to questions when I wanted a quick reply. Talking with people who can understand what you're going through is a wonderful support system to have. Our cohort even created a Facebook page that kept everyone connected … even after graduation!"
Join thousands of students like Kelsey on a path to success with UofL online learning! To learn more about the MSSW program here. To learn about the convenience and flexibility of our online learning programs in general, check out the Online Learning FAQs page.