"My entire tenure at UofL was incredibly life-changing."
That's the way recently retired Commissioner Rodney Brewer sums up his experience at UofL. Brewer, who attended the University of Louisville for both of his degrees—a Bachelor of Science in Justice Administration and a Master of Science in Criminal Justice—is a prime example of where the right degree and hard work can take you in life. An adult learner himself, he offers advice for students returning to the online classroom along these lines: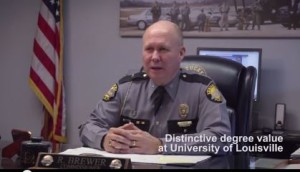 Enjoy your time as a student and accumulate as much knowledge as possible
Combine real world experience with the right education for your path
Make education a "life-long learning" process to continue growing
Balance your life demands with your education and career goals
Brewer's perspective on education is valuable for all incoming Criminal Justice students, and his own career proves that the degree he earned from the University of Louisville, was the right choice for his career. Brewer rose through the ranks to serve as Chief Executive Officer of an agency comprised of 1,800 personnel, with a budget in excess of $191 million annually. A thirty-year veteran of the agency, he served in numerous assignments including uniformed operations, special investigations, narcotics, strategic planning, academy commander and many other merit and no-merit ranks. "I believe in life-long learning," says Commissioner Brewer, and his accomplishments certainly reflect a commitment to this philosophy.
Don't miss all of Commissioner Brewer's interview videos about his experience at the University of Louisville and his advice to prospective students seeking their Master in Criminal Justice though UofL's convenient online program. The video series can be found here.
Follow in his footsteps … Take the next step!
Enroll in the Master of Science in Criminal Justice program here … or explore the many benefits of the online experience on the UofL Online Learning website.