UofL's Master of Science in Civil Engineering Offers Online Courses Designed to Develop the Next Generation of Civil Engineers. Here's Highlights for One of Them.
There's a place for theory in every learning process. But for a career in civil engineering, it's the "hands on" tasks – seeing projects evolve from design to construction to completion – that challenge and inspire.
UofL's Master of Science in Civil Engineering (MSCE) degree embraces this approach by delivering coursework that directly translates to the projects students will encounter in their careers. The structure of the course, the content it delivers and the kind of professors selected to teach … each is chosen with this in mind. The practical application of knowledge not only attracts engineers to the program, it keeps them at the top of their game long after they've graduated.
The MSCE online degree is available to professionals who currently hold a bachelor's degree in civil engineering. Students can chose to focus their studies in public works or facilities engineering, with a specialty in geotechnical, transportation, structural or water resources. A variety of courses are offered within these specialties.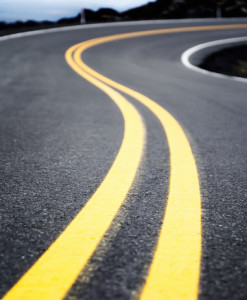 Paving the Road to Rewarding Careers
Among the many courses offered, CEE 665-50 – Pavement Design stands out for its structure and "real world" application. The course, led by Professor Brandon Shelley, studies the design of flexible and rigid pavements, base courses and subgrades. It explores the effects of loading on pavement life, investigates pavement distress and rehabilitation and introduces students to the many details of pavement management systems. Pavement Design has traditionally been the program's largest online course and is often the first class a student will take—making it an introduction to online learning as well, and the ways the program collectively presents a cohesive structure and schedule.
Professor Shelley has taught this course for nearly six years. As an adjunct professor, he's also full time as transportation engineer for Louisville Metro Government. "Engineering students like having adjunct professors." Shelley says. "We have experience in the field. We can bring in particular insights from the kind of work we do daily. Many students are coming from similar work experiences, so there's a kind of camaraderie, an understanding of practical knowledge."
Shelley's work with local government reflects the kind of life experiences other adjunct professors bring to the program. Many are researchers or environmental consultants. Others work within organizations like the Department of Transportation and the Louisville Airport Authority. "You're getting the benefit of career expertise, direct from qualified professionals," Shelley notes.
Coursework that Applies to All Specialties
This kind of expertise is beneficial to all engineers, no matter where their specialty may be: transportation, structural, geotechnical, or water resources. But there are certain course that are a "catch all" for these specialties, and Pavement Design is among them.
"We cover topics for each of specialization," says Shelley. "Students may have a particular focus but they get to see how pavement design is applicable to every specialization. We want to make sure all students are comfortable with it and see how it touches every area of civil engineering."
"For example, transportation engineers may design road layouts, while structural engineers may be designing the bridges they cross. Water resources engineers impact the design of both, based on the effects of hard surfaces on drainage and drainage systems. And geotechnical engineers inform them on how we know what serves as suitable soil for a roadway."
The course focuses on state and national standards, emphasizing Kentucky Transportation Cabinet and national requirements in pavement design and construction. "We pull information from a wide variety of sources, including highway design manuals that are used in the field every day. The general focus in on Kentucky best practices and design considerations for roadways; with airport pavement design, we review FAA guidelines. Students get to see different agencies and different design standards."
A Capstone Project with Practical Applications
The course culminates in a design project. The content and presentation expectations is crafted to mirror the private or governmental design projects students will encounter in their careers. "Each student must choose a roadway in Kentucky, assess it, and provide a significant written report and oral presentation," says Shelley. "I want them to consider all angles. What's going on with a potential redesign? Stresses? Type of road? What do you need from outside engineers? Should it be flexible, like asphalt, or rigid pavement? Maintenance and rehab—how do we account for that? Is the design forward-thinking and cost-effective from a future maintenance stand point?"
The summary presentation is then delivered as if it was being delivered to clients, including a peer review and assessment from other engineers—just as it would be in "real life." This capstone project may seem daunting, but it is ultimately rewarding too. It delivers an exact model that engineers will use later in life, as Professor Shelley has seen time and time again.
"Students always come back and say 'Brandon, I was just surprised with a pavement design request. I was able to take everything you gave me and knock this out … I had no idea what we did in course is what I would be doing out in the industry. Thank you!'"
"It's always rewarding to hear back from students that say 'this class was so helpful,'" adds Professor Shelley. "I take student feedback very seriously. My course is always evolving because of it."
Interested in UofL's Master of Science in Civil Engineering—and more courses like Pavement Design? Learn more about the online experience and available online courses on the UofL Online Learning website.