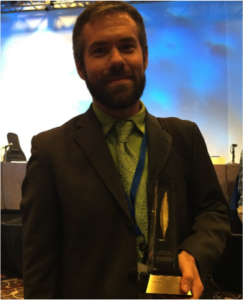 Dr. Jacob Gross, assistant professor in the College of Education and Human Development, Department of Educational Leadership, Evaluation, and Organizational Development (ELEOD) at the University of Louisville, has received the Robert P. Huff Golden Quill Award and was recognized with this honor at the National Association of Student Financial Aid Administrators' (NASFAA) annual conference awards ceremony. This award is given annually to exceptional scholars for their significant contributions to literature on student financial aid.
Dr. Gross is the most junior faculty to receive this award joining top scholars, who have been previously honored by the National Association of Student Financial Aid Administrators (NASFAA), such as Will Doyle at Vanderbilt, Laura Perna at UofPenn, and Bridget Terry Long at Harvard.
Dr. Gross' expertise and research areas include educational attainment of
underrepresented groups; postsecondary access and student success; policy analysis; financial aid; interplay between state and institutional postsecondary policy; and social theory.
Dr. Gross has served as the Editor for the Journal of Student Financial Aid (JSFA) since 2011, and as a JSFA Editorial Board member from 2008 to 2011. During his time as Editor, he worked to move JSFA to a new journal management system, built an Editorial Board comprised of both researchers and practitioners for a more balanced review process, and actively recruited research that is both practitioner-relevant and of the highest scholarship.
Dr. Gross has contributed greatly to the field of student financial aid with multiple research studies and articles focused on postsecondary access and student success; policy analysis; and financial aid published in other highly respected research journals including: Journal of Higher Education, Research in Higher Education, and NASFAA's Journal of Student Financial Aid, as well as several book chapters focused on multiple aspects of student financial aid.
In his acceptance speech, Dr. Gross said "I am honored and humbled by this recognition.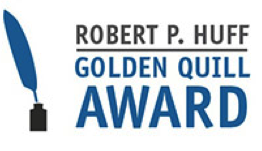 As a former Pell Grant recipient and someone who believes deeply that access to higher education is a human right, I want to thank NASFAA for serving as a tireless advocate for equity and access. As a researcher who has never worked in financial aid, I want to say thank you for being the kind of organization where I feel comfortable, at home, and where I never feel bad about asking questions."
The Golden Quill Award is the most recent of Dr. Gross' honors, which include similar recognitions from:
ASHE/Lumina Dissertation Fellowship, 2008-2009
Spencer Foundation/Indiana University Discipline-Based Scholarship in Education Associateship, August 2006 – May 2008
AIR/NCES Graduate Fellowship Recipient, 2007-2008
AIR/NCES/NSF National Summer Data Policy Institute Fellow, June 2005
Poynter Center/NSF Graduate Research Ethics Education in Social Sciences Fellow, June 2005
About this award: The Robert P. Huff Golden Quill Award is typically presented each year to an individual or individuals chosen for their contributions to the field of higher education services and specifically the literature on student financial aid.
The award is named in honor of Bob Huff, former director of financial aid at Stanford University, an outstanding contributor to the scholarly literature on student aid. Bob received the first Golden Quill Award in 1984.
Nominees for the award are judged on the basis of published work which exemplifies the highest quality of research methodology, analysis, or topical writing on the subject of student financial aid or its administration.
About NASFAA: NASFAA's mission is to provide professional development for financial aid administrators; advocates for public policies that increase student access and success; serves as a forum on student financial aid issues, and is committed to diversity throughout all activities.
NASFAA has nearly 20,000 members, student financial assistance professionals at approximately 3,000 colleges, universities, and career schools across the country. NASFAA member institutions serve nine out of every ten undergraduates in the U.S.
About CEHD: The College of Education and Human Development (CEHD) at the University of Louisville is focused on providing excellent service, resources and tools for success for all students, in the classroom and in their profession. CEHD offers a variety of programs at the undergraduate and graduate levels that have gained a strong national reputation for their high quality and rigorous curriculum. Programs are delivered face-to-face as well as fully online or through a combination of the two learning methods. To see the online programs offered at UofL, visit http://louisville.edu/online.