An interview with Commissioner Brewer of KSP
In the dynamic fields of law enforcement, corrections and security, the ability to quickly understand and adapt to new systems, trends and policies is of utmost importance. Continued education for law enforcement officials plays a vital role in ensuring success for departments in both rural and urban communities. The University of Louisville (UofL) Department of Criminal Justice offers undergraduate and graduate degrees in criminal justice 100% online, specifically designed for the development and continued education of busy, working, law enforcement professionals.
Kentucky State Police Commissioner, Rodney Brewer, has experienced the value of education first hand. He is a University of Louisville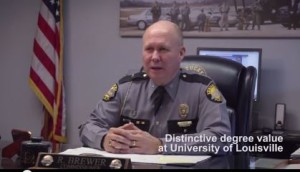 graduate and avid proponent for the power of lifelong learning. In a recent video interview with the University, Brewer talked about the reputation of UofL the value of education and the power of online learning as a development tool and platform for all professionals. He is not only a big fan of the cardinals but also of the excellent educational opportunities at UofL.
Watch the clip about UofL Online: https://youtu.be/qjVfXJQ47RM.
Although the standards and education requirements in the industry are still quite low across all levels and ranks, this notion of education advancement is becoming of critical importance to those working in an ever-evolving field like that of law enforcement. Brewer further discussed the importance of continuous learning and why all professionals should go back to school, stating, "The day you stop learning, you flat-line, you die professionally". While a solid higher education is a good foundation for most career fields, it is particularly important for those professionals working in the realm of criminal justice, enforcing laws for the benefit of an entire community. Brewer states, "College educated officers make better decisions [and] a better educated officer is a better officer. Period".
Watch the clip about going back to school: https://youtu.be/EmfacZxsPGQ.
Through UL's online criminal justice programs, law enforcement, security and corrections officers have more flexible and convenient access to education. UofL's award-winning and easily-accessible specialized courses are available to them at the touch of a button. According to Brewer, this is powerful in that, law enforcement professionals from all over the state, or all over the country, can be enrolled in the same class without the need for relocation. Therefore, departmental constituents from many jurisdictions can come together to advance their knowledge and keep abreast of the most current policies and practices within the field. This is also a great opportunity to learn from award-winning professors who are experts in the field.
Watch the clip about the convenience of learning online: https://youtu.be/PZtiw3Dmy-s.
From enhanced critical thinking, to better policy comprehension, to more lucrative job opportunities within the field, a solid education is one thing that Commissioner Brewer feels all law enforcement professionals should strive for. As he mentions, education is something that can never be taken away from the learner. Therefore, by earning a bachelor's degree or a master's degree in criminal justice, no matter what path a career might take, the educational background of a law enforcement officer will never be lost.
Finally, Commissioner Brewer touched on the importance of education for leadership development. For professionals working within the realm of public service, the knowledge acquired through advanced college education is an extremely valuable asset as it leads to superior abilities to properly lead others and make critical or strategic decisions. The online criminal justice programs make it easier than ever before for working professionals to return to the classroom, and enhance their current leadership skills while simultaneously advancing their professional credentials.'
Watch the clip about leadership in policing and across all occupations: https://youtu.be/NRCVkWPZ3Gw.
Continued education allows law enforcement officers to fulfill their calling and reach their personal and professional goals, and ultimately leads to the success and viability of their entire department or organization. In a time of global heightened security concerns and increased crime sophistication, it is imperative for working professionals to advance their education, keep current, and grow the skills needed to adapt to the ever-changing and challenging world of modern law enforcement.
Want to explore the criminal justice online programs at UofL?
Contact us today: 800.871.8635 | online@louisville.edu | http://louisville.edu/online/campaign/ja?utm_source=brewer_genvid
__
Reference
Brewer, R. (2015). [https://youtu.be/qjVfXJQ47RM] <View entire video.