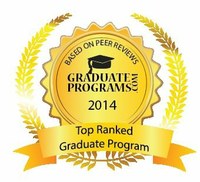 GraduatePrograms.com has named University of Louisville one of the top online criminal justice schools, in a new ranking based on student reviews. The 100% online Master in Science in Justice Administration/Criminal Justice ranked 14th nationally, based solely on ratings and reviews from current or recent graduate students posted on the Graduate Programs website.
Program rankings, compiled using data gathered between September 1, 2012 and September 30, 2014, encompass reviews posted by more than 70,000 students participating in over 1,600 graduate programs nationwide. Ratings are based on a 10-star system (with 1 being the worst and 10 being the best).
According to GraduatePrograms.com, the rankings cover a variety of student topics, ranging from academic competitiveness and financial aid to career support and networking. Rankings are determined by calculating the average score for each program based on the 15 specified categories. No program is ranked until a minimum threshold of graduate student surveys is complete.
To learn more about the program at UofL, including scholarship opportunities, visit the online Justice Administration/Criminal Justice website.