Is social media keeping you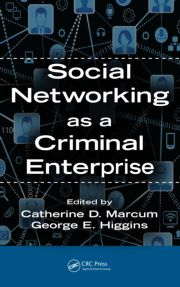 up at night? Is it your role to be on the look out for criminals on Facebook or Instagram? What is the proper course of action for folks who are caught doing something illegal on those sites?
Law enforcing authorities assigned to monitoring cybercrime issues must be able to engage in the best and most effective practices and resources to alleviate the intrusions into virtual space and invasion of privacy or abuse of social interaction platforms and the Internet in general.
"As social networking continues to evolve and expand, the opportunities for deviant and criminal behavior have multiplied." That is the premise behind Social Networking as a Criminal Enterprise, a book published earlier this year and edited by Dr. George Higgins, a professor in the Department of Justice Administration at the University of Louisville (UofL) and Dr. Catherine Marcum of Appalachian State University.
The book compiles contributions from experts in the growing field of cybercriminality (including chapters co-written by the two editors). Here, Higgins and Marcum explore how new avenues for social networking criminality have affected our criminal justice system.
The text includes case studies that place the material of study in the context of real-world application and offers discussion questions at the end of each chapter to encourage critical thinking for specific scenarios. Ideal for students and scholars, the book offers a comprehensive examination of how the emergence of social networking has affected criminality on the Internet, and the resulting impact on the criminal justice system.
Naturally, with the advancements of technology, social interaction and communication, there are now new types of crimes that didn't exist even a decade ago, but it's how the criminal justice and corrections system is handling these offenders that Higgins and Marcum pay special attention to throughout their work. In fact, the book concludes with a discourse on law enforcement's response to cybercrime, including new techniques and training relating to identifying the offense and offenders, type of evidence required, and use of experts and best practices in bringing offenders to justice. It all revolves around how the corrections system is handling cybercriminals.
As for students, many can experience learning from the master when taking Higgins' courses at UofL, where he's recently taught classes in the Justice Administration department on Race and Gender Issues in Criminal Justice and Advanced Statistical Computer Applications for Criminal Justice. This coming spring, Dr. Higgins will also be teaching a Research Methods online class which examines the application of quantitative and qualitative analyses in criminal justice research.
To learn more about the 100% online Master of Science in Justice Administration program, or to apply and enroll to the criminal justice degrees offered online at the University of Louisville, please visit our program page at Louisville.edu/online.